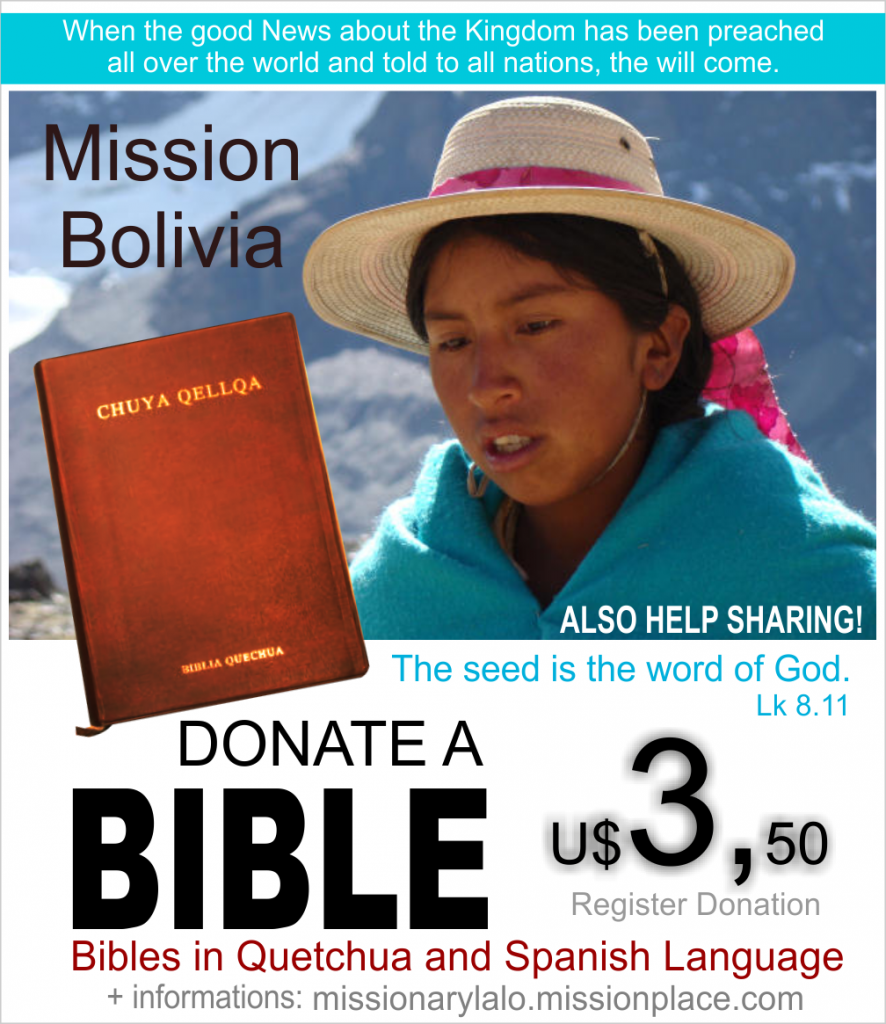 Donate a Bible, take the word of God as the Bolivian Altiplano regions which is a desertic region to more than 4,000 meters above sea level, where the main dialect (language) is Quechua. Exitem over 9 different dialects in Bolivia.
Our Mission is to bring the word of God to the unreached.
In Bolivia less than 10% of the population is evangelical.
90% Catholicism mixed with mysticism.
DONATE HOW MANY BIBLES CAN! One soul is worth going the whole world.
MOBILIZE YOUR CHURCH!
ALL DONATIONS MUST BE REGISTERED FOR DONORS, OR WE WILL DENTIN THE VALUE AMOUNT TO MOST URGENT NEEDS OF OUR MISSION!
PLEASE SEND EMAIL TO:
misionero.lalomarinho @ gmail.com
* Name of church, business or personal
* Value of Deposit
* Date of deposit
* Type of Deposit: Bank / Pay Pal
READY, GOD BLESS YOU!
YOU SHOULD HAVE SAVED A LIFE OR RESCUED AN ENTIRE FAMILY!
>>>>>>>>>>>>>>>>>>>>>>>>>>>>>>>>>>>>>>>>>>>>>>>>>> >>>>>>>>>>>>>>>>>>>>>>>>>>